After being on the road this past year and listening to our customers and prospects, I believe there's some practical tips that bring to together winning NPM and APM teams, which can be a challenge. Here's what I came up with:
When you have a winning vision with successful strategies, you can deliver the most awesome application performance and user experience for your end users.
Tip 1: use a fantasy football approach
Someone or a group of folks need to be drafting the right roster of individuals to work together to do the job. That's what Fantasy Football players do, they continue to hone in on the right combination of talent to be a winning team.
Most of your better players end up being independent super stars—achieving in self-reliant silos of success. Of course that's good to some degree but what is even better is to have the leadership [or Fantasy Football player] build from that individual talent into a team that works incredibly well together. This type of leadership can even make the most ordinary set of individuals—and the organization itself—achieve great success.
In our IT performance case, we're referring to application performance for business success.
Think about when you have witnessed a very talented group of individuals working independently and almost competing against each other. You typically end up with war rooms in the board rooms, virtual or not, and wasting a lot of time.
On the other hand, you might quickly recall when a team of individuals with extremely successful talents combined to achieve a winning objective that ends up being greater than each individual pursuing his or her own goals. Olympic teams and many sports analogies in football, soccer, baseball, and and so on come to mind for most people.
For NPM and APM success and the delivery of mission-critical apps, one of the first hurdles is to realize that network performance is not application performance. Your defense is not your offense. Each part of your overall team must have clear roles and the key is to know when to use which one and how—like what to do when you have a bandwidth issue or sloppy code.
Tip 2: define roles and reduce the meetings
Shake loose the endless meetings that end up being negotiations of who's doing what instead of doing the what. Each player or member of the group has a defined role that contributes to the overall success or mission of the organization. There's no dreaded meetings—staff members demonstrate on a daily basis what is expected and meet only when necessary to expand responsibilities and set milestones of "doing" rather than fessing up to what they haven't gotten done because some other factor is blocking them.
Defining the NPM and APM roles within an organization can be very tricky and is a hot bed for disagreements.
At the Velocity 2014 conference in New York this past Fall one of our prospects said, "It doesn't matter what solutions you use if you do not have a combined vision of performance engineering that relies on the cooperation of teams who have typically blamed each other in the past."
From the top down, you know who or what team needs to address the issues and whether it is an NPM or APM issue without dragging in everyone for endless meetings that can undermine success.
Here's what another customer said about a solid APM approach, "Like many organizations, we were challenged to work effectively across the various functional teams. Thus, we established an APM team with a charter put in place for the technologies, processes, and staffing to correct this."
Tip 3: see all the data without judgement
Having all the informational data is a good thing. Some folks in charge of network and application performance might have trouble with this at first with a plea for efficiency that only the data that's necessary should be available.
This might be true in some cases but what about the cases when it's not? The cost for not having the data ends up being more than the cost to have the data. So you might as well have all the information.
With all the information, you do not have to recreate, sample over time, or miss anything. Once you find an issue with one tier of the application delivery chain you can then zoom out and prioritize what you need to address.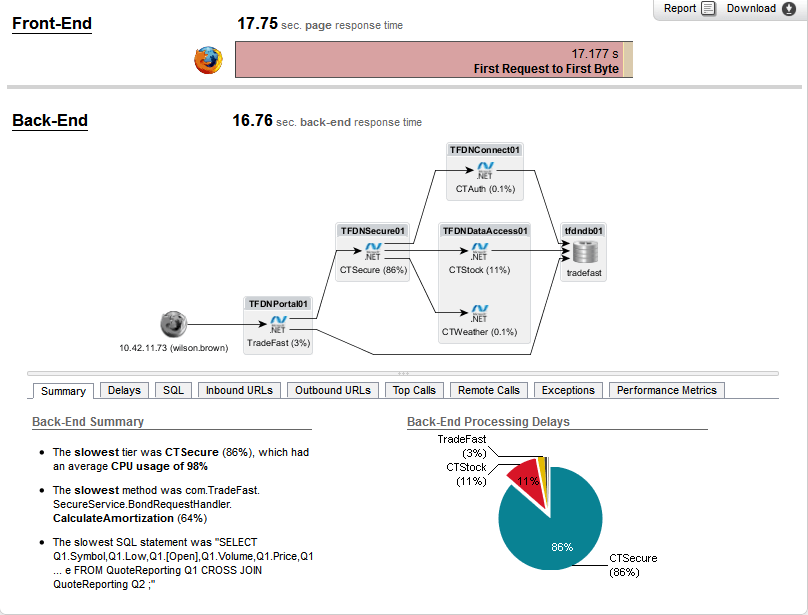 The performance engineering framework that you use to process information must be objective and easy for stakeholders in the organization to "follow the trail of data." When IT staff have separate frames of reference and differing tools to manage systems that should be integrated, you end up with conflict and confusion for where the root cause of any issue is related to your delivery of application performance.
Tip 4: let go of the status quo to win
Be on the cutting edge of your game and don't let others bring you down with keeping things as they are. The delivery of applications from a client-server perspective, to webification, to virtual environments, and now on a pay-as-you-go, things-as-a-service TasS infrastructures continue to challenge all C-level execs with a Opex and Capex strategies for delivering applications effectively.
No worries. The most successful companies that Riverbed Technologies works with include a comprehensive, performance engineering strategy where finger pointing and individual silos of department responsibility have been dissipated. This strategy—or charter as one prospect put it—becomes the foundation for complete visibility of application performance. Information is shared across teams objectively and they have adopted a strategy as simple as this, Application Performance = Business Performance. They thrive on a holistic approach to application peformance—that is, visibility, control, and optimization.
Hybrid adoptions are here in full force for most enterprises—at least at the moment until technology changes again. Several large enterprises are now adopting virtual network environments such as VMware's NSX.
Check out his quick video on NSX and SteelCentral:
Be on the winning team and check out what's on our agenda at our Riverbed FORCE conference next week!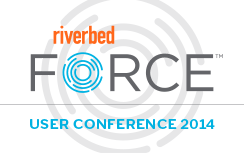 Related topics:
How is Riverbed APM related to David Bowie?
Sprint like an Agile developer but thirst for APM
Effective application performance monitoring (APM)