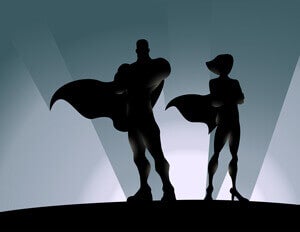 The other day my very inquisitive six-year-old daughter asked me what I do. So, in the 'tell me like I'm six' spirit, I said: 'You know how there are lots of apps on your iPad? Think of the billions of people around the world that rely on those apps.  And when these apps don't work it's no-good because they run things that are important to people. So, my company gives a kind of super-hero power to the people that run these apps so they work as promised for people like you and me.'
But what was I thinking when I said 'super-hero' powers? Was I over-stated or too bold? Maybe not.
Success in the business world is bound to the application's ability to deliver great customer experiences. Think about Uber creating a transportation paradigm shift by winning customers with convenience and new services like the ability to 'DJ your ride'.  In this world, applications and the infrastructure that supports them are more strategic than ever.
Degraded application performance is a massive issue that impacts business directly.  Take Apple for example, their iOS app store suffered an outage and the entire catalog of apps became 'no longer available'.  Outages like these for any business can cost millions.
And today, application performance is more complex than ever tied to an intricately woven web of data centers and cloud services and a mix of network infrastructures.  In fact, 75% of large enterprises expect to have these hybrid deployments in 2015.  Meanwhile, according to IDG, 75% of IT organizations are suffering from degraded business applications.
So, why is this problem affecting some of the worlds largest and presumably most successful companies?  The answer is that's a massively complicated problem.  CIOs have all the accountability for their business services.   But when application performance is subpar, his or her 'go to' people have different answers. Cross-domain teams at the network and application level try to figure out the issue but come to different conclusions due to inconsistent data sets and analytic approaches.
Even with very simple transactions, domain teams only 'see' part of the transaction – maybe packet data or metrics from app servers.  And by the way, visibility challenges will only get worse…with devices, browsers, networks, CSPs, multi-tiering, calling third party DB's etc.  So how do CIOs and their organization know what's wrong if they can't 'see' what the problem is?  And if they can't see the problem, how can they fix it?
This is where the idea of 'super-hero' powers comes into play.  Today, a majority of companies have 'siloed visibility'.  They are reliant on point solutions, tapping domain-centric data for domain-centric diagnostics around infrastructure and apps.  What's needed is comprehensive visibility, harnessing the power of the BREADTH and DEPTH of cross-domain IT performance data that enterprises have available today…in their hands.
As, Mike Sarget, SVP and General Manager of SteelCentral says, '…comprehensive visibility delivers improved visibility both in terms of 'longitude' and 'latitude'. Longitudinally follows apps deep into the cloud capturing data at the threshold of Saas/Service providers and applies telemetry and analytics, ID performance and delays.' This kind of visibility helps answer the question: 'Is it my infrastructure or is it the vendor?'  Additionally, it provides transparency around the end user experience like in the days off on-prem computing.
Comprehensive visibility casts a broad net dynamically bringing all of your existing, cross-domain data sets together and makes sense of them – END TO END.  And because CIOs do not have telepathic clairvoyant powers, 'predictive visibility' powers to anticipate performance issues and correct them before they become a problem is the next super villain to defeat.  This is a super hero-like power to finally enable CIOs and it hasn't been done…yet.