Microsoft Office 365 continues to grow at an explosive rate as organizations large and small, as well as consumers, have embraced cloud-based email, collaboration, and productivity applications. Personally, I have also started to make the shift, both at work and at home, using Office 365 cloud-based productivity apps—and it has been surprisingly pretty seamless.
A recent report by Okta, a provider of secure sign-on (SSO) services, demonstrates the meteoric growth of Office 365, and shows that its customers are using Office 365 more than any other cloud-based application: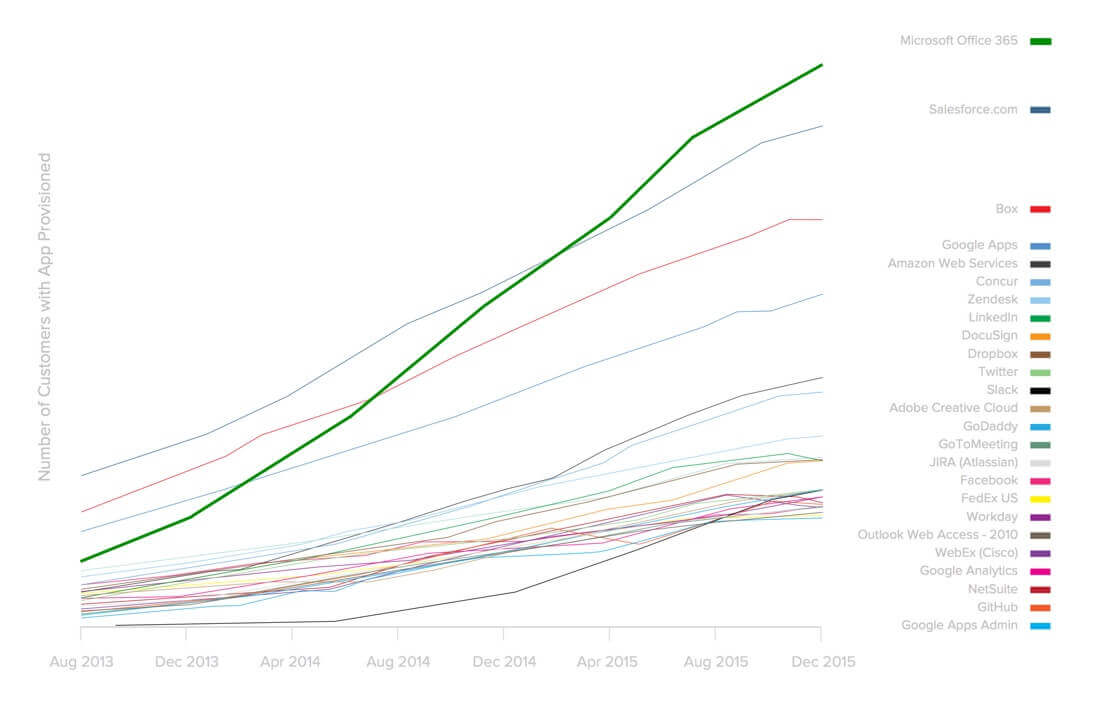 Source: Okta, Business @ Work report, March 2016
The benefits of Office 365 are compelling, especially when viewed from an executive perspective: costs that are lower and predictable, simple administration, and a minimal learning curve for end-users transitioning from on-premises versions of Microsoft applications.
However, the move to Office 365 presents IT teams with challenges that may include:
Network issues affecting migration and the ongoing use of Office 365 applications
Resistance to change from end-users concerned about performance and availability
Difficulty identifying, troubleshooting, and resolving performance problems
With these challenges in mind, I suggest that IT teams managing the transition to Office 365 put three things on their list of priorities: (1) proactively evolve the network to support cloud-based applications, and (2) focus on the end-user experience, and (3) take ownership for ongoing service assurance. At the end of the day, it's all about delivering great application performance for end-users while reducing costs.
Evolve the network
One of the trade-offs in moving to SaaS applications is that IT must give up control of the infrastructure and, therefore, the ability to tweak performance with changes to servers, storage, and the application stack. This leaves network design as the main lever for shaping application performance.
Your current network was probably not architected to support cloud-based applications or migrating data to a cloud. There are several ways you can improve the design to deliver better performance and security with SaaS applications. I recommend reading the Gartner research note Network Design Best Practices for Office 365 to learn more.
Focus on the end-user experience
End-user satisfaction and productivity are important measures of success for an Office 365 project. However, delivering a good experience for all Office 365 end-users can be a challenge given differences in geography, connectivity, network paths, and devices. What's more, the performance of one application may be excellent but another unacceptable because their requirements for latency and bandwidth differ.
For all of these reasons, it's important to monitor application performance from the end-user perspective—actually, from the perspective of many end-users running several applications. My colleague, Mike Marks, explains how you can do this in his recent blog post.
Recognizing a performance issue is the first step; the next is to identify the cause. Riverbed offers a suite of application performance management (APM) and network performance management (NPM) tools that provide visibility from the end-user all the way to the cloud so you can pinpoint the source of a performance problem.
Take ownership for service levels
The SLAs of Microsoft and other SaaS providers stop at the edge of the cloud, which is understandable because that is the extent of their control over application availability and performance.
IT can step up and close this gap by setting, monitoring, and enforcing its own service level targets. It starts with the ability, as described above, to monitor application performance in real time and troubleshoot the causes of problems. You can even spot changing usage patterns and network bandwidth needs on a proactive basis.
Riverbed also gives you the means to significantly improve application performance with path selection and optimization both inside your enterprise and across the Internet.
Learn more
Visit our Office 365 Solutions web page to learn how Riverbed can help you plan the transition to Office 365, improve productivity with a better end-user experience, and keep application performance levels consistently high as conditions change over time.