The ability to compare performance data over time greatly enhances your ability to better understand overall application performance. This is why, in my opinion, one of the most powerful, yet most overlooked, features in a recent AppInternals release is 'Compare To.'  With a single click of a checkbox, you have the ability to compare timeframes of performance. This is very useful when comparing peak performance times, assessing the impact of an upgrade or code enhancement or investigating slowly degrading performance overtime that might be lost to the naked eye or slowly changing dynamic threshold.
With AppInternals' 'Compare To' feature, there is no need to manually create baselines.  You can compare any time period to any other time period by simply clicking on the time range, checking the Compare To box and selecting your timeframes.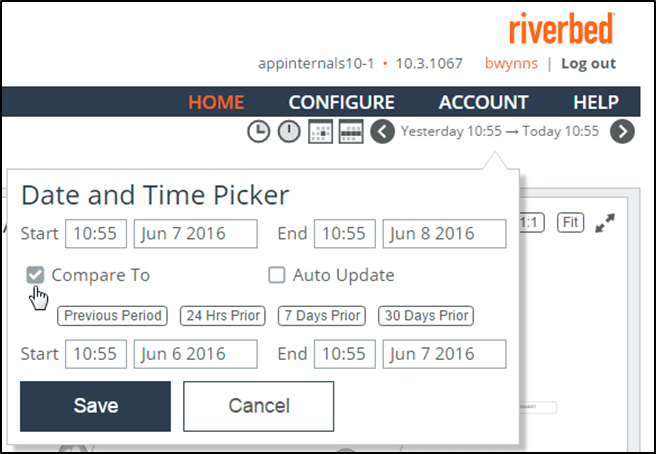 Clients have successfully used this feature to help answer questions like:
Did last weekend's code change impact performance?
Did adding another web server improve end user experience?
How has overall performance changed over the past 30 days, six months, etc.?
The comparison view provides side-by-side views of all facets of performance for both time periods so you can easily see changes. In this case, the Performance card shows current performance in color with the compared timeframe in grey. The Insights tab provides specifics with the ability to drill down into more detail on various performance changes during the two time periods.

In our scenario, an application patch was applied over the weekend. How did it impact performance or did it impact performance? There are hundreds of questions that can be easily answered using the comparison view. Here are but a few to help us quantify the impact of our change.
Did patching impact application or end user response times?


From the Insight and by hovering over our transaction data, we see that there is only minimal impact to server response time and to end user (page load time) response time.
Did my transaction count change or was there a change in overall response time? 

No, the blue areas (the compared timeframes) are relatively the same.
Did my application code change reduce application code delay?

No changes here either.
With a click of a button we can easily see that the patch caused no performance issues. Views like this help us quickly quantify the impact of a change and address it if we need so that we can move on to the next issue.
These questions and many more can be answered by harnessing the power of AppInternals' data store and easy-to-use data visualizations. Visit www.appinternals.com to find out more and to start your free trial today.